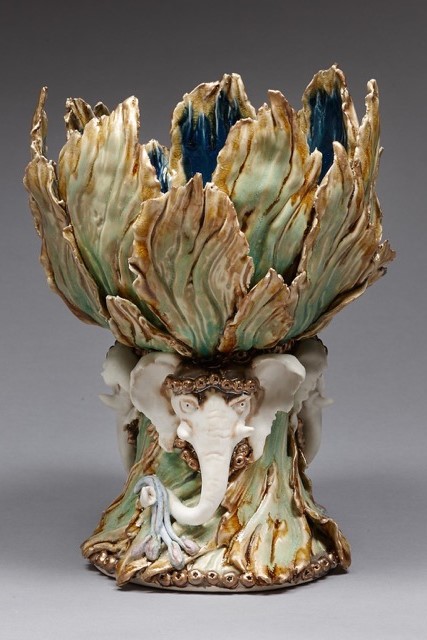 In my practice, I sculpt clay. It's the medium I've chosen to express myself. The tactile feeling and plastic quality of clay are what I love.
Whilst studying Masters (finishing in 2012), I was forced to look at the how, where and why of what I was doing in my practice. This lead to many personal insights into the past regarding works that emerged at quite specific times. My emotions were more relevant than I gave them credit for. Before this I assumed I just made stuff by whim! Also, the psychology of childhood, the sea and the bush that represented freedom in my early memories still permeate the work. I have always found peace and refuge in those environments.

My work and creative interests have become all encompassing over the years. I realise I do not wish to do anything else. It gives me peace, comfort, and meaning in my life, and to share it is a joy.
Born Melbourne Victoria. Initial training, Bachelor of Fine Art (with Honours), RMIT University 2000; Master of Fine Art, Monash University, 2012. Exhibitions include: Artist Studio Exhibition, Windsor 2018; Melbourne Now, NGV 2014; Dance of the Dissident Daughter, Skepsi @ Malvern 2012; Then & Now, Skepsi on Swanston Gallery 2008; Gift of Rod Fyffe, Bendigo Gallery 2008; Australian Culture Now, Ian Potter Centre NGV 2004; 6th Australian Craft and Design Showcase, Glen Eira City Gallery 2003; Hermann's Art Award, Christine Abraham's Gallery 2003; Prix De La Ville Carouge 2003, Geneva Switzerland. Publications: Ceramics Art & Perception, Issue 68 2007; Art & Australia, September 2003; Pottery In Australia, Volume 42 No 2, Winter 2003; 500 Bowls, Lark Publications, USA 2003; Ceramics, Art & Perception, Issue 68 2003. Collections include: National Gallery of Victoria, National Gallery of Australia, Hamilton Art Gallery, Shepparton Art Museum, Bendigo Art Gallery, Margaret Lawrence Collection Victorian College of The Arts.