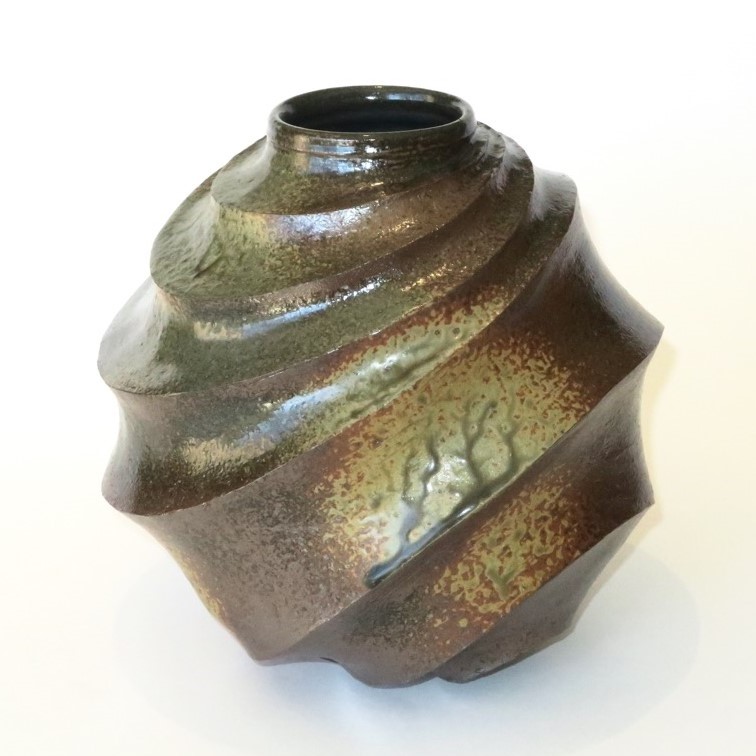 For over 30 years, I have lived in Australia after leaving my home country, Japan. The life in Australia has always reminded me of my Japanese origin. My passions have been to express the emotions and feelings I have had through my life in Australia, into my work.
My work process is that I initially determine the form (shape) and work on the glaze when it is in a completed shape of form. I transform the wheel thrown form when the form is firm like leather by using various methods including faceting, fluting, pushing in and out, stretching, patting and carving.
I have been fascinated by the Bizen's features of simplicity reflected in the dark and subdued colors. In order to produce the Bizen's characteristics, I use a dark body clay available in Australia and applied the method of transferring the tracing of fire onto the face of pottery by using ash and straw glazes, although glazes are not used in Bizen ware.
Place of birth: Osaka, Japan. Initial training, Warrandyte Potter's Cottage 1990-1994. Established Terry Koubou Pottery in Templestowe, 1994, creating pottery for many restaurants, especially Japanese restaurants in Melbourne. Exhibitions include: Gifted, Skepsi @ Malvern, 2017; Identity, Skepsi @ Montsalvat, 2017; Distinctive, Skepsi @ Montsalvat, 2016; Exhibition, Maunsell Wicks Gallery, Sydney, 2016; Gifted, Skepsi @ Malvern, 2016; Gifted, Skepsi @ Malvern, 2015; Solo Exhibition, East & West Art Gallery, 2015; Quiet Conversations, Skepsi @ Montsalvat, 2014; Gifted, Skepsi @ Malvern Artist's Society, 2014; West Coast, East Coast Ceramics Exhibition with Greg Crowe, East and West Art, Melbourne 2012; Celebrating The Master, Skepsi on Swanston Gallery Carlton, 2004; The Second Wave at Fo Guang Yuan Art Gallery 2003. Awards include: Pottery of the Year Award at Potter's Cottage 1993; Manningham Victorian Ceramic Art Award 2011 Finalist; Manningham Acquisition Award 2013. Collections include: private and corporate collections throughout Australia.